Foundation Course in Acting 2023-24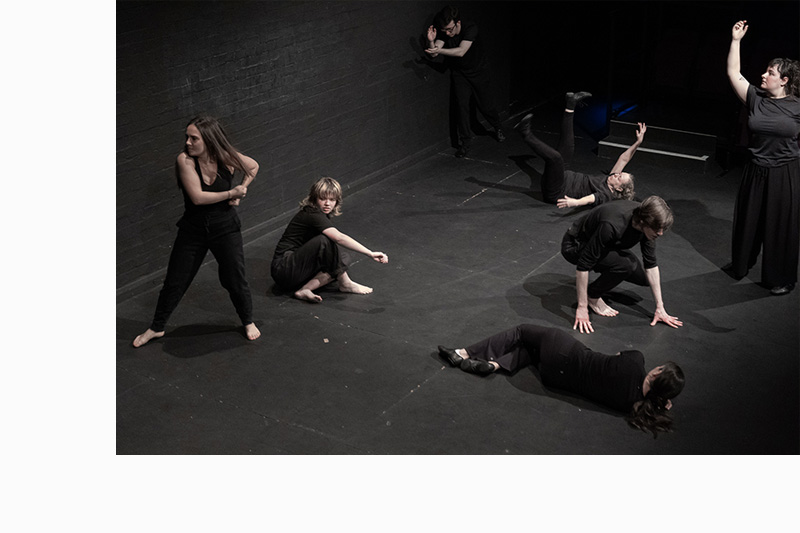 Our Foundation Course in Acting is the first year of our two-year part-time Acting: Foundation and Performance Course. You apply initially for the Foundation Year, at the end of which you can apply for the second year Advanced Performance Course.
Training actors for 77 years, within the Questors the course is affectionately known as our Student Group.
Applications for the 2023-24 course are now closed. Applications for the 2024-25 course will open in May 2024.
Introduction
This is a part-time course for those who want to take acting seriously, are genuinely committed to learning and willing to work hard. With classes on weekday evenings and weekends, this allows you to attend while still in full-time work or education. Each week you'll take specialised classes in Acting, Body in Performance, and Voice & Speech.
Our Foundation Course in Acting is aimed at those who want to either go on to pursue a professional career or act at The Questors Theatre. Many students who complete the course go on to full-time drama schools.
We believe that you will learn more about the art of acting on this course than you will on many full-time courses – we know that because students who have gone on to drama school have often told us so.
The course receives overwhelmingly positive feedback from students, and is recommended by tutors at many leading drama schools.

Why study at The Questors Theatre?
A unique feature of the course is that you will learn to act in the environment of a working theatre which produces 15-20 professional-standard productions each year. You will meet actors in our main company, many of whom are graduates from this course. You will have the opportunity to get involved backstage in our productions.. You will be able to watch all our productions for free and talk to the cast afterwards.

You will learn to act as a member of a group of like-minded, creative and equally dedicated students. We believe that you can develop your talent more successfully by working in a group, giving mutual support and encouragement, than you can by taking individual tuition.

You will have dedicated tutors throughout the year. The course is an integrated whole – no short modules with different tutors. You will have weekly classes in three disciplines: Acting, Body and Movement, and Voice and Speech.

While the Foundation Course can be taken on its own, on completion of the course you will have the opportunity to progress onto the Advanced Performance Course (the second year), where you will have the chance to put into practice all you have learned by producing two full-scale productions at The Questors.
Module 1: Acting
In your acting classes you'll be rehearsing and performing scenes every week. You'll gain an all-round practical understanding of the art of acting. You will learn by doing, while at the same time understanding what you are doing.
Developed from Stanislavski, our course will train you in the actor's art of creation and expression – the ability 'to create the inner life of a human spirit and to express it in artistic form'.
We lay great stress on developing the imagination. The acting classes are very carefully structured, so that you develop your understanding of acting in an organic, methodical way.
In the first term you will learn to create inner life, how to express in through physical action and the importance of creating background circumstances and finding and playing objectives. Later, you will start to write your own short scenes, devising these with the help of your peers.

In the second term we stress the importance of interplay with other actors, and the development of emotional sensibility and the ability to improvise. You will be given the chance to explore characterisation, learning how to build a character step by step. It culminates in an informal presentation of a substantial exercise, giving you the chance to use all you have learned so far.

In the third term we move on to text. You will work on three texts from well- known plays, and learn how to study a text and all the background work you need to do to build a performance, while at the same time learning how to rehearse in a practical, creative way.

The year finishes with a presentation of work in progress to a paying audience.

Module 2: Body in Performance
Dedicated body and movement classes will train you to understand the relationship between emotional and physical energy and how these energies are responsible for the development of character.
In life, the body is hot-wired to react first and think later. By harnessing this power you will be able to create the strongest performance in the most natural, holistic and truthful manner.
The training will teach you to read body language in others and to discover the powerful possibilities of true emotional interplay.
Another important aspect of the work is a guided approach to learning about yourself in space: sensing an awareness of the space you are in and how to use it, as well as your physical relationship to others in that space.
Your dedicated movement tutor will guide you through this over the year.
Module 3: Voice and Speech
Your voice is your instrument and you must learn how to build it, how to play it, and how to look after it. It is vital to do this in a methodical careful way. You will learn to develop your voice from first principles.
Freedom from physical tensions, alignment, breath, resonance and articulation work are the cornerstones of the voice curriculum.
Voice work helps build an instrument that has power and stamina, flexibility and expressivity: a voice that effortlessly reveals the character's inner life.
You'll gain an understanding of your own voice and speech habits, so that you can free yourself of habits that limit you in rehearsal or performance and craft new mannerisms for the characters you portray.

Also important is learning how to approach text and how to express an author's and a character's words in an array of different ways.

Your dedicated voice and speech tutor will guide you through this over the year.
Social Life
The Questors has its own bar (The Grapevine) where students can socialise at the end of every class, and meet other members of The Questors. We strongly encourage students to socialise outside class, with each other and with their tutors, to reinforce the bond within the group. You will all belong to the wider Questors community.
Autumn: 23 September to 16 December 2023
Spring: 6 January to 23 March 2024
Summer: 6 April to 13 July 2024
Class Timetable
Classes are held at The Questors Theatre in one of our large rehearsal rooms. There are three classes each week:
Acting on Saturdays 3.15 - 6.30pm.
Body and Movement on Tuesdays 7.15 - 8.35pm.

Voice and Speech either on Tuesdays 8.45 - 10.05pm or Thursdays 7.15 - 8.35pm (half the group on each day).
Fees
£325.00 per term, in advance; or by direct debit in 3 monthly instalments of £116.00 (£348.00).
Support may be available - find out about Scholarships & Bursaries
Course level
Equivalent to first year undergraduate.
Entry requirements
Prior training in acting is not necessary. All applicants will be invited to attend an audition and interview with David Emmet, the course director, where you can demonstrate your acting potential and commitment.
Minimum age is 18 years. Although most students are aged 18-30 you can be accepted at any age.
How to apply
We audition and interview everyone who applies. We want to assess your talent and commitment and find out what your experience is. It doesn't matter if you have no experience at all if you have the potential and the right attitude.

You should start preparing for your audition as soon as you have book your slot. For your audition you should prepare two short pieces, each lasting about two minutes and contrasting in style. These pieces should be from a play, and preferably a single speech. There is no requirement that one should be Shakespeare. Choose pieces that appeal to you and which you feel you can get into – and learn them by heart. You will also be asked to act an impromptu scene.
The main audition period will be between 27th August and 10th September. Some applicants will be invited to return for a second audition in the evening of Tuesday 12th September.
Further auditions will be help on Saturday 18th September, or by special arrangement, and applications will remain open until the start of the course.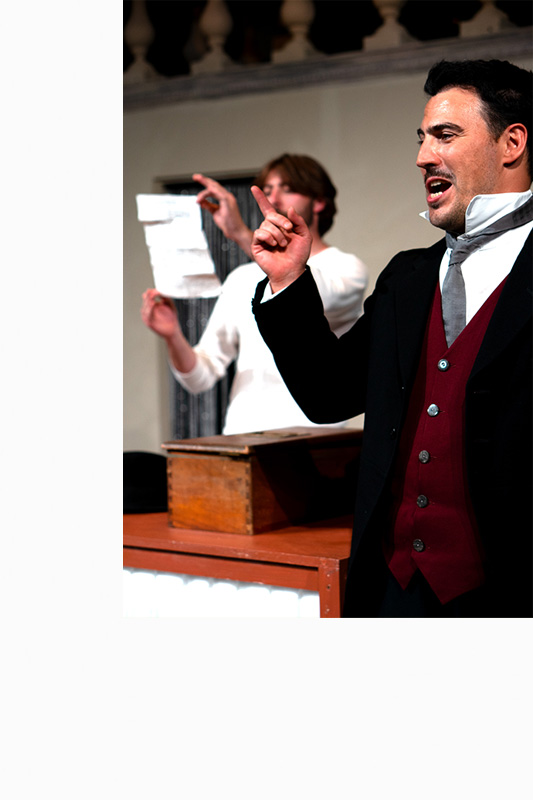 Questors Membership
As a Questors student you enjoy all the facilities and benefits of membership of The Questors, including free tickets to all productions by The Questors during the year (except the Christmas show).

Equity Membership
As a student on the Foundation Course in Acting you are eligible to join Equity as a student member.
What can I do after this course?
The majority of students who complete the Foundation Course in Acting apply for the Advanced Performance Course, to further develop their skills in acting in front of public audiences in our working theatre.
Recent graduates have also gained places at RADA, Guildhall, LAMDA, Royal Central School of Speech and Drama and most other leading drama schools. Others have gone on to careers on stage and screen.
Many graduates join our theatre company and act in Questors productions performed in our Judi Dench Playhouse and Studio Theatre.